FREE FAST SHIPPING FOR ORDERS IN THE USA

Free Fast shipping for orders in USA

A jammed rifle is as deadly as a wooden sword. But now you can use this simple tool to regain total control over your AR Without ever moving your right elbow from the shooting mat
Free Fast shipping for orders in USA

A jammed rifle is as deadly as a wooden sword. But now you can use this simple tool to regain total control over your AR Without ever moving your right elbow from the shooting mat

The Rapid LoadLever™ attaches to the bolt release with the use of one torx screw and allows the user to release the bolt with the trigger finger.

It addresses reloading malfunctions by extended a military-grade anodized aluminum paddle to the right side of your rifle.

Improves the speed and efficiency of reloads and clearing stoppages by up to 40% without switching hands, allowing you to maintain constant fire control.

Easy to install onto your existing standard mil-spec forged AR bolt release/catch (paddle) with no weapon disassembly or parts replacement.
AFTER YEARS OF CAREFUL RESEARCH AND METICULOUS TESTING, WE ARE PROUD TO BRING YOU A RESULT YOU CAN HAVE COMPLETE FAITH IN.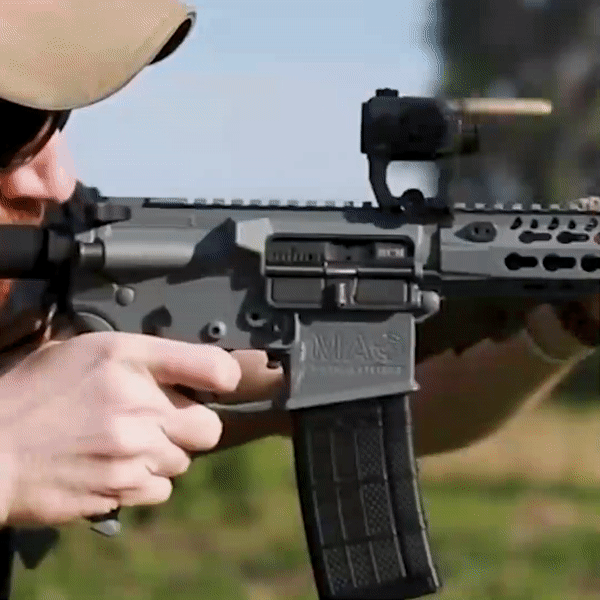 ATTENTION: Place your order Today and your package will be prepared and shipped today.
We have many orders and our Stock is Limited.
How do I track my package?
You can check the status of your order at any time by going to the following link: Order Status.
You can also reach out to our customer support desk at tactiarmyco@gmail.com to ask questions anytime.
How long does it take for an order to arrive?
Once shipped, your order will arrive within 5 to 10 days for United States, within 10 to 16 days for Canada, Australia and United Kingdom, other countries can take 15 to 25 days.
You'll receive an email confirmation once your order has been shipped. Feel free to email us to check your order status. We're happy to help.

We're confident we design and sell the best quality accessories, and we want to share our confidence with you!
Thats why we back every sale with 30 Day Money Back Guarantee
If you don't like the product or if it just doesn't work for you return it within 30 days of receipt.

Dont Just Take it from us...

"This works either with an eyelet, or picatinny rail. I have it mounted to the front end of a Ruger 10/22 in a tactical stock. Works just as well as the higher prices ones on my 6.5. The attachment go from eyelet to pic rail is solid and small enough to not be an issue.Very nice build quality, clean looking and very sturdy. It works just awesome."
- Kenny F.

"I was really surprised at the quality of this bi-pod when I received it. It has mostly stamped construction, but the metal plate they used was very thick and assembled neatly with hardly any allowance between assembled pieces. The spring strength is...perfect; not too strong, and not weak. Definitely worth the money"
- Micheal G.


"Honestly I didn't think it was going to be as nice quality as it is for the price I paid. But it is a fantastic attachment. Heavy duty build while being light weight and extremely sturdy and easy to use design. Fantastic purchase. Will differently buy again."
- Luis G.


"I have 2 AR's and have this on both of them. It makes for one handed manipulation of the bolt release after popping a magazine out with the same finger. Much easier than bringing your thumb up with the other hand, it's more intuitive."
- Kenny F.

"I have Rapid Reload Lever on all my rifles. Allows for quicker reloads, keeping eye on target during reload and dealing with jams better. Also makes clearing the weapon easier as you can see the chamber while locking the bolt back. I am a tactical Timmy but this is the second thing I put on my rifle, after sights."
- Micheal G.


"I love this product. It is positioned perfectly above and in front of the trigger and is out of the way of the trigger finger. However, it is not preferred on billeted lowers as the lever sticks out awkwardly. I definitely recommend this to anyone looking for ambidexterity."
- Luis G.